3rd EDITION
8.5"x11" Workbook
183 pages
ISBN: 978-0-9714482-7-8
This no-nonsense manual, contains dozens of samples, checklists, forms and real life stories.

Affiliate Link

Table of Contents


Sample Chapter


Sample Forms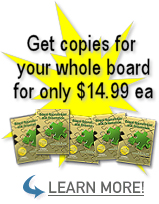 3rd Edition

I didn't think the 1st edition of Board Recruitment & Orientation could get any better, but this Revised Edition proves me wrong. If you have the first edition, give it away and buy this one!

Renata Rafferty
Syndicated NonProfit Columnist and Best Selling Author of "Don't Just Give It Away: How to Make the Most of Your Charitable Giving"
Hildy Gottlieb's practical guide will enhance any board, providing a framework that organizations can customize to address their own specific concerns. Given my role in improving the effectiveness of Volunteers of America's local affiliates, I will be recommending it to them all.
Pam Olsen
Vice President of Planning, Volunteers of America National Office
A truly useful book is one that is willing to guide us along a straight, down-to-earth path, even if that means debunking such entrenched dogma as "recruit board members for their wealth" and "let the CEO recruit the board." Hildy Gottlieb has not only written such a book, she has tackled one of the most neglected areas in today's nonprofit world: Board Recruitment. Bravo!
Stephen C. Nill
J.D.,and CEO, CharityChannel.com
Board Recruitment & Orientation: A Step-by-Step, Common Sense Guide

3rd Edition, Revised and Expanded

by Hildy Gottlieb

If you already own an earlier edition of Board Recruitment & Orientation
| | |
| --- | --- |
| Now fully revised and expanded with more forms, more examples and more ways to create an energized board! | |
| | | |
| --- | --- | --- |
| | | How to recruit board members, build your volunteer pool, and engage the community - all at once! |
| | | The key to finding Board Prospects who are hiding in plain sight |
| | | What qualities all board members must have (they may not be what you think!) |
| | | Who should never recruit board members |
| | | How new board members can hit the ground running long before they are even appointed |
| | | How to get the most from people who are not board material |
| | | How to build a powerful board culture that outlasts individual board members |
| | | And more! |
Board Recruitment & Orientation: A Step-by-Step, Common Sense Guide provides a comprehensive 6-step process guaranteed to build an energized and effective board. Here's just some of what you'll find in this jam-packed workbook:
Simple Ideas to Use Now!
Discover a pool of prospects you never realized you had - right now!
Take the Board Quiz to find out how effective your board really is - right now!
Make new board members comfortable from their very first meeting - right now!
Board Orientation Do's and Don'ts you can use right now!
Bylaws check: Do your bylaws permit you to remove horrible board members?

And dozens more!
Forms and Brainstorm Sheets:
Which qualities must board members have? (And which qualities would you never want in a million years?)
How to build a board culture based on the things that matter most!
How to build a prospect pool and board pipeline!
How to create an application that tells you what you really want to know!

And dozens more!
Samples:
Sample Brochure: To introduce prospects to the organization and the board (and a brainstorming sheet to help you generate a Board Member Introduction of your own)!
Sample Board Giving Policy: The most effective we have ever seen!
Sample Board Member Letter of Commitment (and a checklist of items to include in your own letter of commitment)!
Sample Interview Questions: Craft questions that reveal what you really want to know!
The worst mission statement we have ever seen - really!

And dozens more!
Step-by-Step Checklists:
Interview Checklist: What notes to take during the interview, and how to rank interviewees!
Board Manual Checklist: Transform your manual from boat anchor to effective tool!
Orientation Checklist: How to determine what to teach in your orientation program

And dozens more!
With real life stories and examples and so much more!!
Does your organization have a better program for recruiting and training the janitor than recruiting and training its board members? This step-by-step manual will help you create an energized board by building a strong recruitment and orientation program. Whether your board needs minor tweaks or a major overhaul, you will find yourself coming back to this common sense guide again and again.
| | |
| --- | --- |
| A capable, well-trained board is within your reach. | Affiliate Link |
WHAT ARE YOU WAITING FOR?