Dear Hildy:
Thanks for writing. I've been wanting to write you but it's been hard to put pen to paper. I'm sure you understand.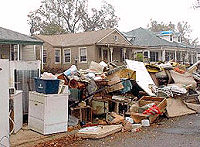 January has been pretty tough. The week I received your letter was the week that my brother, John, had come to New Orleans (he lives in Memphis) to help do a final salvage round at our family home. That was especially hard. A good friend of his came with him, and Scott was invaluable. He went through the stuff I couldn't bring myself to go through, salvaging what was possible and tossing the rest. I finally was able to admit that all my books, music, etc. were gone. I kept trying to go through them to see what I had, but I finally realized the utter futility of that.
John was able to bring lots of childhood memorabilia back with him to Memphis. My mom was a pack rat and had stored so much of our kid stuff in the attic. The water didn't get that high, thank goodness. He was really great about helping me decide what to keep and what to trash. I just sort of stood there in disbelief.
While John was here, we made the decision to bulldoze the house. Even though I knew that was what we would have to do, we finally spoke about it and made the firm decision. It would take too much money to repair, and then what type of problems will you be facing in 10 years, between the wood rot and the hidden mold?
During John's visit, we ran into quite a few neighbors, several of whom I had not seen since the storm. One of them had had his property surveyed, and he had put a mark on the telephone pole to reference the anticipated new FEMA flood level for building. The current allowable level is 0", which is where all our property is. The new reference point is over 4 feet, and is likely to be even higher. From 0 inches to over 4 feet!
All the neighbors we spoke with will be tearing their houses down. All are in a waiting game. What will the new FEMA flood plain be? Will the government have a grant program to help us rebuild? No one can do anything until those questions and more are answered. Fortunately, at least the demolition is covered by national flood insurance.

From the Chronicle of Philanthropy
Did you see the article in the Chronicle of Philanthropy? My picture made the website. Do I look forlorn enough??? It was taken behind my own ruined house (not my family's - mine). All those clothes were rotten from sitting in the water for two weeks. We had pulled out the stuff that was blocking doors, etc. so we could salvage what we could. The water line is visible on the wood - we figure it's somewhere between 3 and 4 feet high.
On my block, out of about 25 houses, there are only 5 families still there, living in trailers. Most are not returning and will either sell their houses "as is" or, like me, clear the lot and hang onto the property for a few years and see what happens to the market.
As for my life, my husband is finally back in New Orleans full-time. Since Katrina he had been commuting to Houston every week for his work, but he is here now. His return has made life much better for me.
In January I started teaching singing part-time at a little Catholic school in the Mid-City neighborhood of New Orleans, where I lived until I was 8 years old. The church and school are on Canal Street, at the opposite end from downtown New Orleans. The school had anywhere from 2 to 4 feet of water on the ground floor, and in some places, the water remained in the building for nearly 3 weeks. While most of the classrooms were upstairs, the auditorium, cafeteria and pre-K and kindergarten classrooms where hit very hard. The school reopened with less than half the 400 children originally enrolled there, with only one class per grade from pre-K to 8th.
The first two weeks I taught at St. Anthony were tremendously emotional. The kids were thrilled to be back in school, yet there was such a sadness. All of them had lost their homes. Some were living with relatives, others in trailers and still others on the 2nd floor of their damaged homes. When I asked them if any of them played an instrument, one boy said mournfully, "I used to play guitar." Wow. Hard not to break into tears in front of the class.
The great joy here, though, is how talented the kids are. But that's New Orleans. So vibrant, so rhythmic.
Once I leave school, it is hard to see the neighborhood I had known so well, now in total shambles. There are now maybe two to three families living on a block, and that is a significant increase from December! All these months later, there are still flooded cars on the streets, still debris from home interiors on the curb for trash pickup.
The principal doesn't know how the school is going to make it. She took all the returning students, whether they could pay tuition or not. St. Anthony already had one of the lowest tuitions in New Orleans, to make the education affordable to a wide range of students. All the teachers have taken pay cuts.
On a different note, on Friday, the Save the Children Foundation had a meeting regarding their program for students and caregivers. It was great to meet so many folks who are here with the international relief efforts. I am hoping to get some much-needed help from them, as they are interested in facilitating connections between the local groups. When it was my turn to talk about the state of my nonprofit, I broke down. The first time in public. Everyone else cried, too. We are truly all in this together.
Thanks for staying in touch. I'll be better about writing.
Julie
To assist with the ongoing needs of victims of Hurricane Katrina,

CLICK
To make a donation directly to Stage-to-Stage, the organization Julie founded,

CLICK